May 27, 2009
I heard a different version of the same idea at Boskone once, but here is a pretty good send-up of what might occur at a customer review session.  (Warning, however: Low production values.) Also, in case you missed them, considerably funnier are a couple of classic Star Trek filksongs, especially the first.
While I'm on the subject, a couple of more serious filksongs I really like are:
Other great serious filksongs are "Queen of Air and Darkness" (Poul Anderson lyrics) and Jordin Kare's "When the Ship Lifts, All Debts Are Paid", but I can't find recordings of those now.
And finally, back to the humor: I just found a video to a song I posted previously.
May 12, 2009
There's a long list of Chuck Norris Java jokes.  Most are pretty lame, but I liked a few, including:
Code runs faster when Chuck Norris watches it.
Garbage collector only runs on Chuck Norris code to collect the bodies.
April 1, 2009
Donald Farmer has an excellently-crafted April Fool post about a revolution in business intelligence. Look at the character names, for example.
I wonder whether Donald learned operations research from that textbook where two main decision-making characters were Mark Off and his father Pop, an example company was Edifice Wrecks, and an example CEO was Dawn Shirley Light …
April 1, 2009
Amazon says it's taking "cloud" computing to new heights, as it were.
Derivative funds and large government-subsidized entities will be especially interested in FACE's transmodal operation. They can allocate a dedicated FACE, load it up with data, and then send it out to sea to perform advanced processing in safety. The government will have absolutely no chance of acting against them, because they will be too busy trying to decide which Federal Air Regulation (FAR) was violated, not to mention scheduling news conferences.
First excellent April Fool's joke I saw this year was from The Guardian.  The best so far is from Expedia.  Others are linked in my Twitter feed.  And personally, I'm encouraging the concept of April No-Fooling Day.
March 27, 2009
xkcd does it again. Previous links to xkcd here and here.
November 18, 2008
Vertica's marketing is usually good-to-outstanding, but they made a funny misstep this time. If you go to the Vertica home page, you'll see seasonal art suggesting that their product is a turkey and/or that it's terrified it's about to get the ax.
Live by the pun, die by the pun.
November 16, 2008
Charts and graphs, from the folks who brought you a whole lot of cute kitten photos:
September 19, 2008
The NY Times reports on research that shows a correlation between mathematical ability and a form of mental reflexes. A Johns Hopkins newsletter article on the same research is here.
Where it gets fun is that the NYT included a link to a version of the test. Blue and yellow dots of diverse sizes flash on the screen, and you have 0.2 seconds to determine which color predominates (in number, not total area). I got 14 correct in 15 trials. Read more
August 30, 2008
And with impressively linear scalability.
July 3, 2008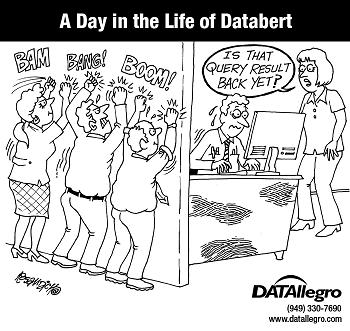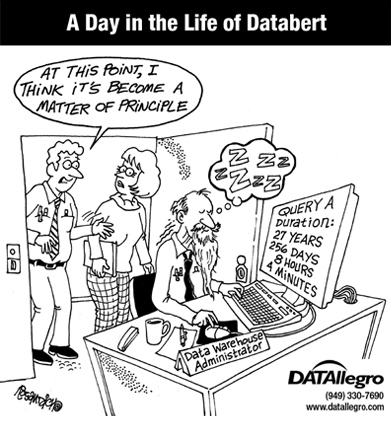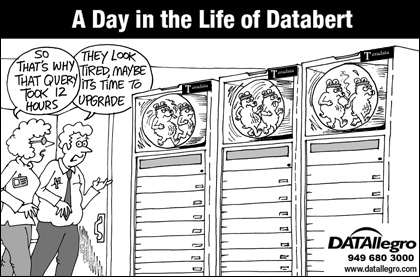 Related links: